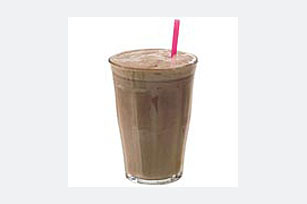 I recently hosted an after school enrichment class entitled "Yummy Healthy Shakes". My intentions were to teach kids in 3rd through 5th grades that food is consumed to not only taste good but to nourish the body. I offered a digestive tract worksheet (I heard lots of "yuks") and a breakdown of carbohydrates fats and proteins for them to consider when making their own shake. We talked about sugar (I heard lots of disappointing sighs) and how it should be a special treat occasionally not occupy each of their meals. The "Ughs" came when the half baby kale/salad joined the bananas, peanut butter, unsweetened cocoa and unsweetened almond milk in the blender. BUT they all (yes even the 10th child who wouldn't admit it) guzzled their shakes down. A definite hit!
Here's the recipe "Chocolate Banana Peanut Butter Shake":
1 whole banana
1 tblspoon organic peanut butter (straight peanuts, no sugar added)
2 teaspoons unsweetened cocoa powder
1 cup of mixed greens
Enough unsweetened almond/coconut milk to cover 2/3rds of the ingredients in the blender.
Enjoy and be well,
Lynn