Good fats fuel the brain, providing stamina and endurance throughout the day. I do my best to make sure that my children get their fats: butter, avocados, olive oil, flaxseed oil, coconut oil (as they tolerate) and even heavy whipping cream. And if I can add FUN into any of this, my life becomes that much easier.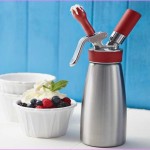 I just recently ordered the whip cream dispenser that has become a huge hit in the family. Both kids (and their friends) this past weekend put whipped cream on strawberries, on a paleo pumpkin muffin, on GF pancakes and even on their fingers. They were so happy to be whipping away (and I was so pleased to see them consuming fats). I highly recommend the Whipped Cream Maker 1/2 Liter Canister Whipper
(and be sure to purchase the replacement CO2 canisters).
Be well,
Lynn