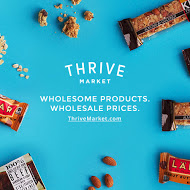 In the last couple of weeks I've been receiving a blast of emails recommending that I check out Thrive Market. It's a new website that sells 4000 popular food, beauty, baby and kids, home goods at discounted prices. The catch is that there's an annual fee of $59 (less than $5 per month). BUT you can buy products at a fraction of the cost, up to 50% off, and the products are shipped FREE to your home!
Think "Costco meets Whole Foods"
Thrive Market's mission is also philanthropic. For every annual membership purchased one free membership is donated to a low-income family.
So I gave it a look and was impressed. We just recently ran out of fair trade, organic decaf coffee and found a product at Thrive at 12oz and only $8.45. My kids love the "Kind" bars which Thrive offers a 12-pack at $15.99 (only $1.33 per bar!). 16 Larabars (I'm a sucker for the peanut butter chocolate chip) is only $18.99. A 16 oz bag of coconut sugar is only $4.95. Makeup, moisturizers and hair products appear affordable. For one order of Kind bars I will recoup my $5 monthly fee. Plus I'm a sucker for FREE SHIPPING.
Take a look at Thrive Market and let me know what you think.
Be well,
Lynn