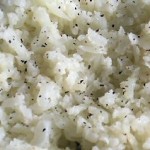 After Thanksgiving I'm usually "potato-ed" out. I've consumed my fair share of roasted and sweet potatoes and yams. The day after I'm ready for a different side dish to my standard protein fat and veggies meal. Yet, rice doesn't settle well with me even though I enjoy the flavor. Often I make dishes for my family that include rice: fried rice, curry, rice bowls, for examples. But I've needed a substitute.
I can't believe how ridiculously EASY and FAST this is to make. I had heard of cauliflower rice but couldn't believe that it could truly substitute rice: the consistency and the tolerance for juices. Boy, was I wrong. It's absolutely delicious and even faster to make than rice!
Recipe:
Cauliflower (in a Vitamix or blender for 30 seconds until it's seriously chopped)
Sautee the chopped cauliflower in a pan in oil for 1-2 minutes. Add in your favorite vegetables and seasonings.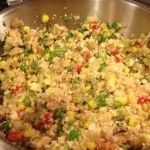 It's that easy. And perfect for us paleo fans as well.
Be well,
Lynn