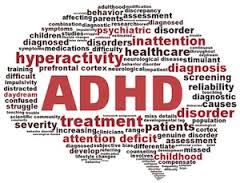 I often get caught up in working with clients that I forget to communicate to all of you what I'm up to these days. I have a passion to help all individuals get healthy and children are at the top of my priorities. Perhaps it's because I've had success with my own child, with helping other parents and knowing that if we intervene now, children may have a long term prognosis that defies the odds.
Currently 3.5 million American children are diagnoses with ADHD and are being treated. The first line of "treatment" is a class 2 narcotic chemically known as methylphenidate; brand names are Ritalin, Concerta, Medikinet and Equasym. Cocaine is also considered a class 2 narcotic. All of these "treatments" pose a long-term risk of addiction, as the tolerance increases with time, so does the dosage.
Serious side effects include sudden death, seizures, an increase in diagnosis for developing bi-polar behaviors, new psychotic symptoms, etc. Other non-serious side effects include sleep problems and loss of appetite (266 percent experienced the latter in a recent study). Sleep problems and loss of appetite can result in increased "ADHD" behaviors: hyperactivity, lack of focus, anxiety, etc. (Remember, parents there is no blood test for ADHD/ADD. It's based on a set of symptoms).
In other words, "treatment" may need to be an immediate plan, but is NOT a long term plan. One must dig deeper to identify the source of these symptoms. Dr. Charles Gant, a pioneer in functional medicine and one of my mentors refers to the symptoms of ADD as this:
Absolutely 100% of human beings, without exception, can be made to display the symptoms of inattentiveness by simply driving their brains into a chemical imbalance, either with enough of a toxin exposure (brain poisoning) and/or with enough of a nutritional deficiency (brain starvation).
So how do I assess chemical imbalances, brain poisoning and nutritional deficiencies? I use functional testing, rather than guessing. Functional testing assesses the performance of the brain, the levels of toxins, the ability of the body to detoxify (an essential piece) and nutritional deficiencies (that can result from poor digestion/absorption). I won't go into huge detail but here's a recent example.
A parent approached me about their child's symptoms. 'Getting going' in the morning was just one area identified by the mother as an area of focus. 'Getting going' potentially indicated a deficiency in dopamine. Ritalin addresses dopamine deficiency. Through comprehensive testing I identified numerous deficiencies, three of them being vitamin c, b6 and folate. ALL of these are considered co-factors to dopamine. This means that the body CANNOT make dopamine without adequate levels of vitamin c, b6 and folate. This child could not 'get going' because she wasn't absorbing/assimilating the correct co-factors to MAKE dopamine.
Here are other areas that you can begin supporting now:
Reduce as much as possible sugar. It spikes blood sugar and creates chemical chaos in the brain.
Support your child with cod liver oil (450mg of DHA minimum). Fatty acid deficiency is associated with behavioral issues, hyperactivity and inability to focus.
Explore a true elimination diet or get tested for food sensitivities.
Get them out exercising EVERY day. Exercise has been demonstrated in numerous studies to reduce the behaviors associated. In one study it was revealed that 26 minutes of physical activity each day helped to significantly reduce ADHD symptoms in grade-schoolers.
Digestive health (gut-brain connection). How the gut performs is how the brain performs.
Keep your child away from food colorings, preservatives.
I know you have a lot on your plate, parents. I've been there. Dig deeper, get support in developing that long term plan.
Be well,
Lynn