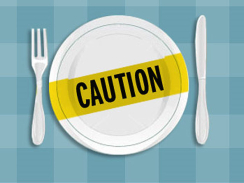 I hear this comment often from my clients, at least initially.
I've written about the power of identifying food sensitivities. A food that is consumed consistently can serve one of two purposes. The first and more preferable outcome is that the food is digested and the nutrients and waste are directed through the proper channels. The alternative outcome is the food is identified as "foreign" in the body, antibodies unfold and a battle ground is created resulting in chronic inflammation. The latter is an often time silent process, rather than an immediate cause and effect.
How an individual manifests this inflammatory response is highly individual. It can manifest into migraines, chronic pain, aches, swelling, vomiting, digestive issues, sleep issues, hormonal problems, fatigue, neurological disorders and so much more.
When a client consumes a sensitive food consistently, the body becomes "conditioned" or "de-sensitized" to the ongoing crisis. It's been a gradual process so the person becomes unaware of the ongoing damage. It's not until the food has been fully eliminated for an extended period of time that the body becomes "sensitized". It relaxes from the ongoing battle. When the food is reintroduced, BAM! The response hits and the person realizes that in fact the food is a problem.
Just because you eat a food consistently doesn't mean it is the right food for your body. Identifying foods that create an inflammatory response in the body can bring a client many steps closer to healing.
Check out my Total Transformation Programs here.